Our newspaper Canadian Russian News moved online to http://canrusnews.com . You can read the news from Canada, Russia, Russian community in Alberta, local events and classifieds.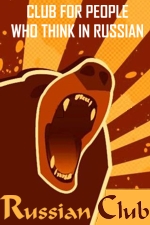 Edmonton Russian Club is on Facebook!
Become a fan of our Club on Facebook and share your stories, photos and ideas. Chat with your fellow Edmontonians and find out about events and programs our Club is organizing in Edmonton.
Today the city of Edmonton has several thousand residents who speak Russian as their primary language. Our community is a diverse one, including people of different nationalities, age, views and occupations. There are those who immigrated a few months ago and those who have lived here for many years and consider Edmonton their home. Most of us, however, share a common desire to socialize with people who come from the same cultural background, speak the same language and have the same history.
With this in mind, a group of Russian-speaking Edmontonians from different parts of the former USSR conducted an Internet survey in April 2005 to find out community responses to the creation of an association which would bring together Edmontonís Russian speakers. We sincerely thank all participants in the survey. Its results showed a considerable interest among members of the Russian community in having an organization which would add more variety and zest to our lives. Picnics, concerts and social dinners were voted the most popular community activities. About 25 percent of the respondents said they would regularly attend these and other events, and another quarter said they would come occasionally. Half of the male and a third of the female respondents expressed an interest in actively participating in a Russian community association. Detailed results of the survey can be found here:
https://russoclub.tripod.com/id10.html
. Following up on the survey results, a group of Russian-speaking community activists organized in May 2005 the Edmonton Russian Recreation Club.
On May 3, 2005,
the Club received official registration from the Government of Alberta.
The Clubís goal is not to duplicate or compete with the existing Russian organizations. We are open to cooperation and interaction with anyone who wants to enrich the life of the Russian-speaking residents of Edmonton and Alberta. Our goals and functions include:
ē Creating a community forum where Russian-speaking Edmontonians could meet and socialize
Promoting the discussion of social, educational, economic, political and other topics of interest to the community
Organizing musical events and theatre performances
Organizing a library with a variety of printed, audio and video materials in Russian
Preserving and developing the cultural and national identity of Russian-speaking Canadians
Promoting Russian culture in Edmonton, Alberta and Canada
Purchasing or renting facilities required to carry out the above-mentioned goals
Managing other property necessary for Club activities, including the right to buy, sell, rent or mortgage
Club members have a number of rights and privileges, including:
A 20-percent discount off the cost of tickets to community events organized by the Club
The right to participate in Club decision-making, elect the President, Vice-President and other Club officers, and run for these positions
Free use of the Club library (after it has been organized)
Free use of municipal athletic facilities (in the nearest future)
In addition, membership in the Club will give you a chance to make more friends, expand your business contacts in Edmonton, and simply have a good time!
We invite you to become a member of the Edmonton Russian Recreation Club and make your contribution to the social and cultural life of Edmontonís Russian-speaking community. We rely on your support and hope that it will help us make the Club a viable organization and turn it into a favourite gathering place for all Russian-speaking residents of our city.
To join the Club, please fill out the membership form and send it by e-mail or regular mail to the address below. The electronic version of the form can be found here:
https://russoclub.tripod.com/id11.html
The annual membership fee is $25 (individual) or $35 (family). You are welcome to pay by cash or cheque (please make your cheque payable to the Edmonton Russian Recreation Club).
Click here to print the membership form in the .doc format